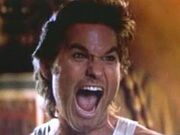 The Queen of England is bringing Wimbledon to America as a good will gesture. Dutch and Dillon take the day off to watch a match but discover a deadly secret...a dead tennis player Sven Svenlander!! They are told to keep it "hush hush" by Sgt.Cornelius because it would make america look bad. Just so happens Dillon's old college roommate is now a truck driver and is dropping off some tennis balls for the game. Its none other than Jack Burton (Kurt Russell) from Big Trouble in Little China. 
Jack is an exact double for Sven Svenlander and Dutch has the idea of having him replace Sven for the match to catch the real killer. Turns out it was Chaz Diamonds the Disco loving evil mastermind who used to be the Ramones Road manager from the episode Rockaway Beach Massacre. He was sent to jail and was forced to listen to punk music to get him to stop being obsessed with Disco...but he became obsessed with the Sex Pistols and came up with the plan to murder the Queen
Production Note: This Episode was written and directed by John Carpenter
Ad blocker interference detected!
Wikia is a free-to-use site that makes money from advertising. We have a modified experience for viewers using ad blockers

Wikia is not accessible if you've made further modifications. Remove the custom ad blocker rule(s) and the page will load as expected.