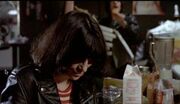 Dutch and Dillon find themselves at popular rock club CBGBs in New York. Turns out Dillon is a huge fan of punk and the Ramones are playing. After listening to their new song Rockaway Beach a fight breaks out in the crowd and Dutch and Dillon jump into action to stop the Ramones from getting hurt.
After seeing their fighting moves the Ramoens manager (played by Clint Howard) hires them to be security for the band. There have been several threatening letters send to the band and the manager is worried. 
The Ramones are in studio when Dutch finds a bomb hidden in a duffle bag. The episode ends with the building exploding.
Many fans complained that this episode didn't need to be a 2 parter and its mostly filler of the Ramones playing. Due to the cost for licensing of the music this episode was never shown in syndication.