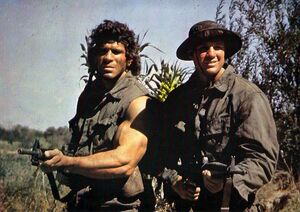 The following is an incomplete list of guest appearances made on Dutch & Dillon. The frequency of guest appearances increased in later seasons as other television shows began to draw influences from earlier plotlines and story trops from the Dutch & Dillon series. 
Mister (Parallel) Universe IX - Scott Bakula as  "The Technician"
Bob Hope
Bela Lugosi as Vampire man 3 in th epsode 200 named "Vampire Man is back again this time!" in season 3
Don Knotts as himself in Dutch & Dillon & Don Knotts
Lou Ferrigno as Steven "Notch" Wolter
Reb Brown as Saul Nolan
Clint Howard as Chaz Diamonds
Eugene Levy as Mr Fivel Goldstein, Dillon's high school science teacher
Ron Jeremy as a fishmonger background character. This was prior to his career in pornographic films
Jimmy Saville as Mr Stinkfingers, a cruel British mobster in American Dutchwolf in London
John Goodman as Fielz Goodmahn, a German intelligence officer that helps the boys on some missions
Ad blocker interference detected!
Wikia is a free-to-use site that makes money from advertising. We have a modified experience for viewers using ad blockers

Wikia is not accessible if you've made further modifications. Remove the custom ad blocker rule(s) and the page will load as expected.